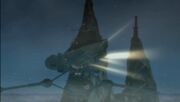 Carmel Lighthouse is a structure located on a high mountain peak in Anatoray. The Grand Stream is visible from the lighthouse.
Alex Row and Vincent Alzey use the lighthouse as a meeting place in the episode Develop. The lighthouse appears quite old and broken down. It is not in functional condition and seems to have been abandoned.
Ad blocker interference detected!
Wikia is a free-to-use site that makes money from advertising. We have a modified experience for viewers using ad blockers

Wikia is not accessible if you've made further modifications. Remove the custom ad blocker rule(s) and the page will load as expected.