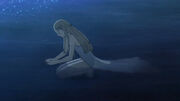 Grand Lake is a large lake on Earth. It borders several countries, including Ades, Turan, and Glacies.
The countries of Ades and Turan both hold the Grand Lake to be sacred. When Ades proposed a peace treaty, it was decided that the ceremony would be held at the lake, in the belief that not even Ades would attack such a sacred location. However, the peace proposal was a trap, and Luscinia Hāfez attacked regardless.
Later, the peace treaty between Turan and the United Kingdom of Anatoray-Disith was sealed at the Grand Lake.
Locations in the Grand Lake
Edit
The location of Grand Lake on the map of Earth corresponds with the present-day Mediterranean Sea, though it seems to have expanded and joined with other nearby bodies of water. The site of the false peace conference, for instance, is in the present-day Black Sea.
The Grand Lake is presuambly the body of water featured during Resign, the last episode of the first series.
Ad blocker interference detected!
Wikia is a free-to-use site that makes money from advertising. We have a modified experience for viewers using ad blockers

Wikia is not accessible if you've made further modifications. Remove the custom ad blocker rule(s) and the page will load as expected.