Fam The Silver Wing (ラストエグザイル~銀翼のファム~, Rasuto Eguzairu Ginyoku no Famu) is the direct sequel to Last Exile.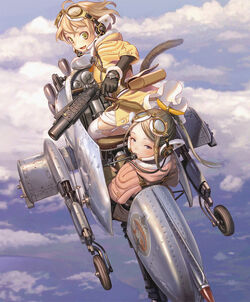 Set four years after the events of Last Exile, Sky Pirate Fam Fan Fan performed a routine Skyfish Hunt, but became involved in international matters when she intervened against the Ades Federation. Ades intends to unify world under their rule, but many nations resisted, including the Kingdom of Turan. Seeing its princess in trouble, Millia il Velch Cutrettola Turan, Fam decided to help Millia in her quest to save Turan. However, Turan fell and Millia was devastated for losing her kingdom. Seeing the princess in need, Fam volunteered to be her "wings" until the day she can restore Turan and bring back the days of the Grand Race.
The various episode summaries can be found here.
Notes & Trivia
Edit
Articles & References
Edit
External Links
Edit
Ad blocker interference detected!
Wikia is a free-to-use site that makes money from advertising. We have a modified experience for viewers using ad blockers

Wikia is not accessible if you've made further modifications. Remove the custom ad blocker rule(s) and the page will load as expected.