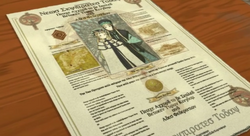 News Skypirates Today (Greek, Νεωσ Σκψπιρατεσ Τοδαψ) is a periodical published by Sky Pirates in Kartoffel. It keeps the people informed on any changes that are happening around Earth.
The paper is published by Press Kartoffel (Greek, Πρεσσ Καρταφαρε).
Headlines
Edit
Open File: Peace Accord to be Sealed Between Turan Kingdom and Ades Federation (Greek, Πεαχε Αχχορδ το βε Σεαλεδ Βετωεεν Τυραν Κινγδομ ανδ Αδεσ Φεδερατιον)
Touch and Move: The Migration Plan From Adeses Various Places To That Places (Greek, Τηε Μιγρατιον Πλαν Φρομ Αδεσεσ ςαριουσ Πλαχεσ Το Τηατ Πλαχεσ)
Ad blocker interference detected!
Wikia is a free-to-use site that makes money from advertising. We have a modified experience for viewers using ad blockers

Wikia is not accessible if you've made further modifications. Remove the custom ad blocker rule(s) and the page will load as expected.