Reparation-class
Reparation-class battleships at the Third Battle of Minagith
Career
(Disith)
Name
Reparation-class
Japanese name
レパラシオン級
General characteristics
Class and type
Reparation-class battleship
Displacement
180,000 tons standard
220,000 tons estimated
Length
667.6 m (2,190.3 ft)
Beam
214.1 m (702.4 ft)
Height
183.2 m (601 ft) excluding mast
Propulsion
Unknown
Speed
112 knots (207.4 km/h; 129 mph)
Power
Guild standard Mk. II Claudia Unit
Troops
720 musketeers (1 battalion)
Complement
1988
Armament
12 × 400 mm (15.75 in) (4×3)
6 × 254 mm (10 in) (2×3)
30-bomb bomb rack
2 × 1016 mm (40 in)
10 × 400 mm (15.75 in)
Armor
400 mm (16 in) on key components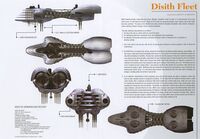 The standard Battle Ships that compose the Disith naval fleet. In Luft Vanship, they are identified as Reparation-class. While the hull design is substantially different from that of Anatoray Battle Ships, they rely on the same Guild-manufactured Claudia Units to fly.
While not explained outright in the series, in the ephemera it was assumed that due to the hourglass shape of Prester, Disith would be invading Anatoray from above via the Grand Stream. For this reason, the guns on Disith warships are primarily located on the bottom, while Anatoray warships guns are primarily on top. This configuration made ship-to-ship combat in the same plane somewhat difficult, though.
Design Detail
Edit
These battleships, in comparison to their Anatorian counterparts, have little armor protection, especially in their mid-section.  Vanships can literally pass through the mid-section and bomb them from within as demonstrated by Tatiana Wisla in Luft Vanship. The claudia unit situated in the mid-section adds to their vulnerability in combat.  Though less armored, these ships have an edge in terms of speed and maneuverability.  In terms of firepower, their underside cannons have a high rate of fire that can sustain a continous barrage of cannon fire to an enemy fleet.
Last Exile: Fam, the Silver Wing
Edit
On the episode "Triple Rook" it is shown that the Anatorian counterpart was brought back to Earth.  It is unknown if the surviving vessels of this class were also brought back.