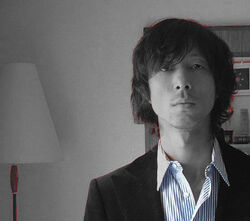 Shuntaro Okino (沖野 俊太郎, Okino Shuntarō, born March 23, 1967 in Tokyo) is a Japanese musician and pop star. His music falls under the indie and psychedelic genres.
For Last Exile, Okino teamed up with Damian Broomhead, a Tokyo-based painter, for the lyrics to skywriting, Head in the Clouds, and I can see a heart. Broomhead had helped Okino before in his 2000 single, Downsized.
External Links
Edit
Ad blocker interference detected!
Wikia is a free-to-use site that makes money from advertising. We have a modified experience for viewers using ad blockers

Wikia is not accessible if you've made further modifications. Remove the custom ad blocker rule(s) and the page will load as expected.